World Languages Free - Games paper - free and very effective tool for memorization foreign words. Everything you need you can do yourself. Or just draw with a pen and paper. The game is out of paper OFLAMERON has many advantages over cards or other Board games. The game is out of paper OFLAMERON interesting, has a lot of different options, you can easily make it harder or easier. The game is out of paper __ completely free. You can download everything you need to print out and conduct lessons. Or to make play materials with students of any securities in any environment - in school, on vacation, on a trip, etc.


Free download images


Use of vertical tables OFLAMERON for memorizing foreign words. Write the French word vertically. each letter in a separate cell. In each column there can be multiple word - length table is not limited.
Print the table and cut the line. Get a few tapes with letters. Mix tape and give to the student. The student should collect the correct table (the French word) and call transfer.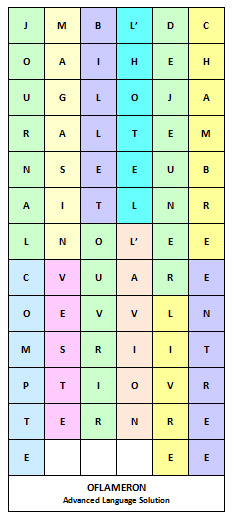 You can make your own version of a table in MS Word or PDF download ready-made layouts.

Full guide >> Free download >>

Blog >> PDF >> World Languages